Quantum Communication – Tutorial for IT Specialists Part 2 (Dr. Peter Holleczek) / german language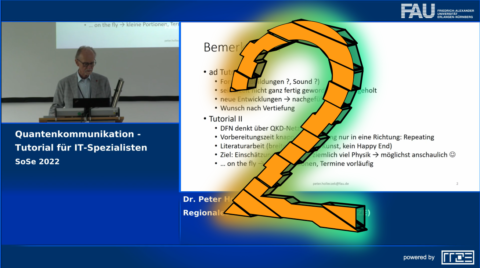 Quantum Communication – Tutorial for IT Specialists Part 2 (Dr. Peter Holleczek) / german language
Deepening Repeater: "Quantum repeating" is a core element of a functioning transmission of information over a larger distance. Due to the no-cloning theorem, creating a quantum duplicate, as is common in classical signal processing, is not possible. Therefore, it requires new network devices such as quantum memories and repeaters to enable a quantum internet.
Already in the first part of the tutorial, IT specialists were introduced to the unfamiliar behavior patterns and current developments in the lecture units. Among other things, there were insights into the generation and properties of photons, current encryption methods and the outlining of transmission properties.
In the second part (videos 13 -20) of the lecture series, the topics of Encoding, Chip Integration & Products will be followed up, and Quantum Repeaters will be discussed.
The link and password have remained the same.
Dr. Peter Holleczek
https://www.fau.tv/course/id/2594
Passwort: TuQUANKOMM-WiSe2021
here you can find again the first article with further information: